Brittany Smith Recieves Last CA Diploma!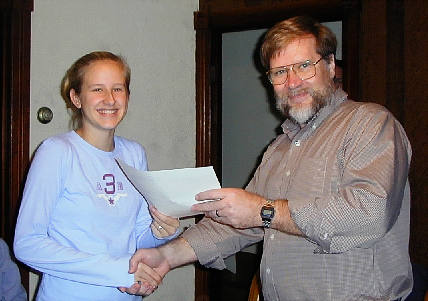 Sans cap & gown, Brittany receives her diploma from Mr. Luce
After the announcement that the 2000-01 school year would be CA's last, the School Board realized that this might leave some of the Class of '02 in a scholastic bind. In hopes of giving these students the most possible options for completing their HS careers, the Board empowered Roger Luce to award diplomas to qualifying students for the 2001-02 school year. Only one student chose this option, Brittany Smith. Due to the time it took getting all the proper paperwork in order, Brittany actually entered Lancaster Bible College as a Freshman prior to receiving her HS diploma. However, this situation was remedied in Nov. '02 when Luce's and Smith's met in Emmaus, PA to say good-bye to John and Judy Nicely as they prepared for departure to Spain. "And a good time was had by all!"
More Grad Photos