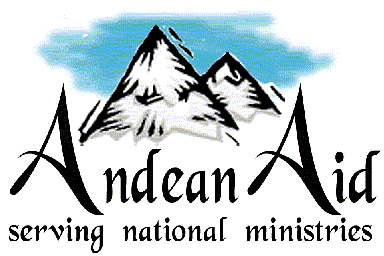 December 11, 2003
Dear Christiansen Academy Family,
Andean Aid is a non-profit corporation with a mission to serve national ministries in Rubio, Venezuela. I recently returned from a three-week fact finding trip and spent much time at the main facility of Christiansen Academy, which now houses Colegio Professor Ciro Guitierrez, a school operated under the auspices of Fundación Caminitos de Luz (FUNDACALUZ). In fact, I stayed in the apartment above the kitchen, which was the home of Barb and Barry Roberts when my wife and I served there during the 2000-2001 school year.
It's wonderful to see the facility still in the business of providing a Christ centered education to children. "Christ Preeminent for CA and Beyond"! Ciro Guitierrez is doing a wonderful job. The facility looks great and is well maintained. The discipline and respect of the students for staff and one another is wonderful. The teachers are excellent. Currently there are seventy-five students at the school and it's the goal of Andean Aid to raise this number to four hundred students – many of them poor children that would otherwise never have the chance for such a great opportunity.
A program of FUNDACALUZ is Niños en la Calle "Children in the Street". Our goal is to bring over fifty street kids into the school to be fed, clothed, educated, and taught about Jesus Christ. Twenty street kids are currently being fed lunch each day and are shown the love of Christ by the School staff. Imagine the impact on Venezuelan society as these kids are educated and move on in careers to be "salt and light" in this troubled country.
Andean Aid is also supporting other ministries in Rubio such as Vida Joven (Young Life) and local churches. In March we will take our first team to teach English in the evening. Our days will be spent doing much-needed repair and expansion to the home of a local family.
I recently looked up Christiansen Academy on the web and found a beautiful article by Jeanette Windle describing the last days of CA. The last paragraph reads in part, "Today the buildings sit empty… And though the physical buildings are gone, CA will always remain in the hearts of those touched by its ministry." Well, let me tell you that the buildings are not gone – and they are not empty! They are filled with beautiful Venezuelan children, learning their school lessons, and learning about the love of Christ, just like many of you did at Christiansen Academy. Some of them may be sitting in the very seats you sat in, learning in the very classroom where you learned. You may have taught where dedicated Venezuelan teachers educate children today. Christiansen Academy had a glorious past and Colegio Ciro Guitierrez is on the threshold of a brilliant future. Many wonderful things are happening and I will share them with you as our web site comes on line in the next several months.
Many of you still think of Christiansen Academy and Rubio as "home". I'm asking for your help in continuing to provide a Christ centered education at CA and to support ministry within the Rubio community. The cost of supporting a child for a year is $500.00, ($1.37 a day). This includes registration, tuition, and one meal a day. "Children in the Street" require around the clock care, clothing, all meals and medical care so their costs are substantially higher. I would also appreciate help with the startup and operating costs of Andean Aid. Anything you can do would be greatly appreciated.
There are three other ways to help.
(1) Join us on a team to teach English and work on construction projects assisting the poor in the community. This will give you a chance to visit your "home town" and to stay at your Alma Mater.
(2) Allow me to speak at your church or to your missions committee to tell the story of the transition of CA from a MK school to a National Christian School and to share the wonderful things that God is doing in Rubio.
(3) Pass along this information to other Christiansen Academy alumni and staff.
Tax-deductible contributions or inquiries to may be mailed to:
Andean Aid
PO Box 190
Antioch, IL 60002
Remember that donations postmarked on or before December 31st, 2003 may be deducted this year.
Let's join together to serve the people of the Andes.
Wayne Cramer
Founder and President
Phone 847-201-8311
Fax 847-201-8312
Cell 847-489-8703
Email: wscramer@iwc.net